Formats
Format Readings
Prayers 
What prayers are recommended to use at a meeting? The World Service Business Conference of 1993 agreed that OA meetings and events be closed with one of the following prayers:  the Serenity Prayer, the Seventh Step Prayer, the Third Step Prayer, or the OA Promise I Put My Hand in Yours.
Spiritual Principles
Principles related to the Overeaters Anonymous Twelve Steps, Twelve Traditions, and Twelve Concepts of OA Service.
OA Forewords & Appendices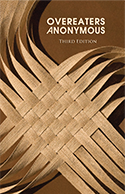 "It is a human tendency to read the "meat" of a book—sometime skipping over the information contained in the pages with roman numerals or ones that appear after "the end." This document hopes to place a focus on the rich information contained in the Forewords and Appendices found in the third edition of Overeaters Anonymous." 
AA Literature Online PDFs – from AA World Service