Feb. 13th through March 31st
Contest winners will be announced on April 5th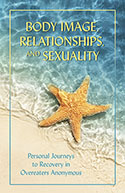 The OA Channel Islands Intergroup has a challenge for you! Go to a meeting in every OA Region in the world (there are 10), keep your records on this Zoom Meeting Log, and email the completed form to natalieg.oa@gmail.com by March 31st. All completed forms will be entered in a raffle to win a copy of OA's newly published book, "Body Image, Relationships, and Sexuality." Start connecting with our worldwide fellowship today! Together we can… Recover!
~Please note the raffle is only open to members of OA Channel Islands Intergroup, but we encourage all members of OA to Zoom around the world. ~
If you're up for a challenge and wish to find your own meetings, we encourage you to explore on your own by doing the following:
Use OA's "Find An Online Meeting" tool to find a Virtual Meeting that uses the Zoom Platform…just enter your Time Zone and get an index of worldwide meeting options with the start time noted in your local time!
— OR —
Search the Internet with these specific words: Overeaters Anonymous Zoom
Results will display a multitude of listings for Intergroups and Regions with lists of local
meetings. If you don't know a specific area you want, scroll to the bottom of search and choose "NEXT."
Remember: All OA meetings are open to anyone with a desire to stop eating compulsively.