Events for a Happy, Joyous & Free New Year
Check host site for recordings
New Year, New You: Moving Forward…Looking Back. Gather the best of our past in order to move forward. Speakers & sharing… Flyer – SacValleyOA
Jan 1 Holiday Thank-a-Thon Start the New Year with GRATITUDE! One Day at a Time – speakers were recorded, see East Bay Unity IG
Jan 1 New Year's Day phone marathon: Every Day is a Fresh Start with Step 1 – PacSun OA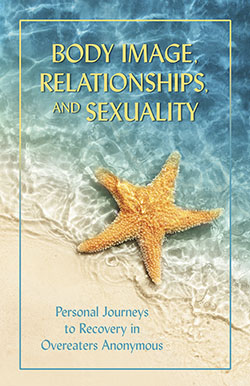 Jan 3 Body Image, Relationships and Sexuality Workshop (based on OA's new book). Once we are abstinent and have worked the steps, these three topics come into sharper focus – 3 speakers: find recording at OA Rise
Jan 5 7:00-8:00 PM PT Public Information Monthly R2 Support Meeting – Support, Brainstorming, Training, Collaboration, and a Guest Speaker. This month, a speaker from San Francisco will share the fabulous outreach work her Intergroup has been doing during COVID. Agenda for Jan 5 – OAR2 
Jan 9 Sponsorship Workshop – Learn how to use the new First 12 Days ~ Temporary Sponsors Handout to help guide new or returning members through their first couple of weeks. flyer – Sonoma County OA
Jan 10 "And Practice These Principles In All Our Affairs" – The Spiritual Principles of the steps. OA VR
Jan 15 OA Sydney > OA's Birthday Celebration! Guest speakers, memories of Rozanne S (co-founder of OA), gratitude dance & singing happy birthday, shares on the theme "Beyond our Wildest Dreams" and more!
Jan 16 OA Birthday Phone Marathon "Celebrating Honesty" Telephone marathon with meetings every hour. Call 712-432-5200 Conference ID: 4285115# (For more info, contact Padma at VIGOAMarathons@gmail.com) Virtual IG of OA
Jan 16-17 OA's 61st Birthday Party! (Virtual)—Tickets included access to all recordings. More than 1,650 fellows from all over the world attended this year's celebration!
Jan 17 1:00-4:00pm PT Not Work, Just Life Speakers share 34 years and 32 Years ESH and discuss living the program on all three levels; readings from Seeking the Spiritual Path, Q&A and sharing. – OA Rise
Jan 23 Using the Action Plan to Manage Our Abstinence Because we must take ACTION to find abstinence & recovery! Join us. for workshop activities including writing, sharing in small groups, breathing, and movement. Flyer | OASV
Jan 23 Road to Recovery The miracle is we are not traveling alone. Four Members will share their Experience, Strength, Hope (ESH) on the Road to Recovery. See UPDATED Flyer for revised link info and get 'Road to Recovery Roadmap' here – OA Northern Nevada Sierra
Jan 23 Meditation Workshop Presenter teaches an easy meditation technique, as shared at the R2 Convention. Speaker shares experience with the meditation practice, followed by Q&A Session. Flyer – South Bay Intergroup
Jan 24 Turning Character Defects Into Strengths (flyer) Start with SELF, then take the Steps. 12 Step Within Committee – oasouthernaz.org
Jan 30 Recovery During COVID Times Three Speakers share experience, strength & hope (ESH) based on the three-legged stool of Physical, Emotional & Spiritual recovery during the pandemic. Opportunity to ask questions & share ESH. OA Mid-Peninsula IG
Saturdays Chronic Illness Focus – New 'Special Topic' OA Meeting, meets each Saturday in 2021 – See & Share the Flyer
Jan 31 CIIG Presents: Step 4 Workshop
Made a searching and fearless moral inventory of ourselves.
Spiritual principle: Courage
If you think you are or might be a compulsive eater you will not want to miss this workshop. →See Event Page for details. Recording will be available on  OA CIIG Podcast channels soon
Jan 31 Daily* discussion group for sponsors on using Newcomers' First 12 Days Handout. Meet 30 min each day Sun-Fri (*not Sat) 6:30am PT -or- 3:00pm PT for two weeks from Jan 24-Feb 5. Details & links. Hosted by Nassau OA; series repeats Feb 14-26.